Income and Health
It is "hard to think of a greater injustice than living over twenty-five years less because you are poor."
Oxfam Report, 2019
When we hear the term global health we might think of the health and wellness of people elsewhere in the world. Headlines about Ebola outbreaks, influenza pandemics or famine and starvation in distant countries are more likely to get our attention. We rarely think of the health of the worker who picked our morning's coffee beans in Nicaragua, harvested the winter blueberries on our cereal in Chile or sewed our garments in Bangladesh. They are anonymous and "over there" and we are here enjoying the fruit of their labors.
Why should we care about global health? For one, global health plays an increasingly crucial role in international security as the world and its economies become increasingly globalized, including extensive international travel and commerce. For another reason, as Oxfam's 2019 Davos report puts it, it is "hard to think of a greater injustice than living over twenty-five years less because you are poor."
"Global health" or "population health" are terms that have been used interchangeably to describe the health of people all over the planet. The World Health Organization (WHO) defines health as a state of complete physical, mental, and social well-being and not merely the absence of disease or infirmity. As such, health is strongly influenced by such factors as:
Income level
Education level
Access to health care – particularly vaccinations and maternal and child health interventions
Access to safe food and drinking water
Sanitation
Freedom from environmental pollution
The presence of a fair and just judicial and democratic political system
Over the past several decades the health of the entire planet, including both its human and non-human inhabitants, has become part of an expanded discussion of global health. There is now appreciation of interconnectedness among the planet's multiple ecosystems; major and ongoing efforts are required to reduce the toll of climate change and reckless consumption that could threaten these systems.
Where do We Even Begin?
Global populations present large-scale health problems that over the past few decades are being identified and addressed in ways that are both new and novel. The United Nations (UN) with its 193 member countries has taken the lead in identifying the issues, setting the goals and providing support and guidance to accomplish them. The World Health Organization (WHO) provides the subject expertise, the technical and laboratory support and the data management and analysis. The member states are then expected to implement the recommended strategies and collect the data needed to determine their effectiveness, working through their own government structures such as health ministries and public health entities and non-governmental organizations (NGO's). Qualifying countries may also receive financial assistance for this work from the World Bank, International Money Fund (IMF) and private economic resources.
In 2000, the UN defined eight Millennium Development Goals (MDGs) to serve as a roadmap for member countries to address the sources and consequences of poverty and improve the lives of the poor – including their health – by the year 2015:
Eradicate extreme poverty
Achieve universal primary education
Promote gender equality and empower women
Reduce child mortality
Improve maternal health
Combat HIV/AIDS, malaria and other diseases
Ensure environmental sustainability
Develop a global partnership for development
Says Gro Harlem Brundtland, "During my nearly five years as director-general of WHO, high-level policymakers have increasingly recognized that health is central to sustainable development."
In 2015 the MDGs were expanded and incorporated into new benchmarks for the next 15 years, the 17 Sustainable Development Goals (SDGs):
No Poverty
Zero Hunger
Good Health and Well-Being
Quality Education
Gender Equality
Clean Water and Sanitation
Affordable and Clean Energy
Decent Work and Economic Growth
Industry, Innovation and Infrastructure
Reduced Inequalities
Sustainable Cities and Communities
Responsible Consumption and Production
Climate Action
Life Below Water
Life on Land
Peace, Justice and Strong Institutions
Partnerships for the Goals.
These goals were to be achieved by all member countries by 2030. This campaign, meant to promote even larger involvement of member countries, also addressed the idea of creating programs for the long-term and addressing some of the biggest environmental issues facing the planet.
Levels of Poverty and Wealth
It is not serendipitous that the first MDG and the first SDG is No Poverty. It's important to understand how poverty is the antithesis of health and why eradicating it is critical to achieving good health for the globe and its population.
In the book Factfulness and on Gapminder.org, Hans Rosling and his colleagues divided the world into 4 income levels based on projected daily income. Their Dollar Street project profiles individual families around the world at all four levels, helping us visualize the role of income in health and its determinants.
Poverty is the antithesis of health … eradicating it is critical to achieving good health for the globe and its population
One billion people live at level 1, extreme poverty, on less than $2 dollars a day (or less than $704 per year). In general, these individuals live in simple housing constructions, say of mud or sticks. They use their bare feet as their major source of transportation, cook on an open fire, collect water in a bucket, sleep on the ground, have limited access to food and little variety in diet. Nearly 85% of their income is spent on food. There is little to save or to buy other essentials as a result. Needless to say health care is a rare commodity. Many people in countries like Liberia, Burkina Faso, Nepal, Central Republic of Africa, Rwanda and Madagascar are at Level 1.
In general people in extreme poverty do not live as long as those in Level 4 (described below). They have bigger families and more children, higher death rates among children before the age of five, and are more likely not to receive any education. They are extremely vulnerable to illness, trauma, severe weather events and conflicts as a result of their tenuous day-to-day subsistence. They have limited or no health care, often due to poor transportation access to distant health clinics and no or limited ability to pay for those services.
"The Bande family lives in the Centre region of Burkina Faso. Idrissa, the 35-year-old father, is a goat trader. His 32-year-old wife Abzeta works as a milkmaid occasionally. They have 4 children. The eldest 13-year-old son, Amidou, herds the goats. The rest of their children study at the local rural school. Together they spend around 130 hours/week at their jobs.
"The Bande family lives in a small hut-type house built with the help of friends and relatives. They have been living here for the past 2 years. It has only one room, which serves as a bedroom for 6 people. The house has no electricity, running water, or toilet facility. The kitchen and toilet are outdoors. The family owns agricultural land on which Idrissa works for about 35 hours every week.
"The family spends nearly 80% of their income on buying food items. They cook their food in their outdoor kitchen. For cooking, the kitchen stove is lit by wood, straw, animal dung, shrubs or grass. The nearest well for drinking water is a 2-hour walk away, and the water there isn't safe for drinking. Even this unsafe water costs them up to 10% of their income. Abzeta is in charge of collecting water and firewood. She spends nearly 40 hours every week on this activity.
"Nearly all of the income of Bande family is spent on food and there isn't any money left to save. The next big thing they are planning to buy is more goats for their trading business. They dream that one day they will be able to afford some cows."
Families in the World
Dollar Street, Gapminder.org
Approximately 3 billion people, the largest group, live at Level 2, getting by on $3 to $8 dollars a day. They might have some possessions like a bicycle, a mattress, or a gas canister for cooking at home, and they may be able to save up for sandals and send some of their children to school. They are still very poor and this additional $3-5 more per day provides little to cushion any disruption in their daily routine. Routine health care is out of reach. Nigeria, Bangladesh, India and Cambodia have many people living at Level 2.
In Level 3, people live on anywhere from $9 to $32/day. They have running water, might own a motorbike or car, and their meals are a more rich and colorful mix of various foods from day to day. They may work multiple jobs and can save some of their income. They most likely have electricity and a refrigerator, which makes things like studying and eating enough varied nutrients easier. Roughly 2 billion individuals live at Level 3, many in countries like China, Egypt, Rwanda and the Philippines.
About 1 billion people live at Level 4, on $32 a day or greater. Level 4 individuals might own a car or motorbike, live in a home with multiple rooms that they rent or buy, cook on an electric or gas stove, have water piped into their homes (both cold and hot), have access to more nutrients, and are more likely to have finished twelve years of school and have money to spend on leisure activities. At this level an extra $3 dollars a day makes very little difference to their daily life. In countries like the US, Canada and Great Britain and much of the Western world, the majority of people live at Level 4.
If you are reading this, you are more than likely at Level 4. Most people at Level 4 must struggle to grasp the reality of the 7+ billion other people in the world, particularly if they have always known this higher level of income: how tenuous life can be when a disability or a serious illness can throw you back to Level 1. We find it difficult to imagine how a measly addition of $3 dollars a day could possibly make a difference to someone living in extreme poverty and in fact move him or her into Level 2.
It is helpful to understand that in 1800, most of our great, great grandparents – in fact, 85% of the global population – lived in extreme poverty with an average life expectancy of 31 years. By 1981, the number had fallen to 44% and today, only 10% of the global population lives in extreme poverty with an average life expectancy of 64 years – still almost a billion people.
The implementation of population level improvements in vaccination, access to safe water, food and sanitation get the "biggest bang for the buck," quite literally.
It is important to acknowledge that this dramatic decrease in extreme poverty and its increase in life expectancy and better health did not occur everywhere in the world and it was not a product of modern healthcare as we know it today. It was the industrial revolution that improved the income level of many, many individuals and enabled the expansion of public health basics such as safe water, sanitation, housing, adequate food resources and the development of vaccines against the infectious diseases that once killed millions.
Clearly, improving global health is not a simple straight line but the culmination of improving many seemingly tangential elements including income opportunity, stable and orderly governance, access to housing, and education for girls and boys. The implementation of population level improvements in vaccination, access to safe water, food and sanitation get the "biggest bang for the buck," quite literally. If a government has interest in improving the health of their population and has a health ministry that is willing to implement programs and collect vital information about implementation success and failures, when funding sources align, widespread improvements in their population's health can be obtained.
---
Alanna Shaikh, TEDx
Global health expert Alanna Shaikh talks about the current status of the 2019 nCov coronavirus outbreak and what this can teach us about the epidemics yet to come.
---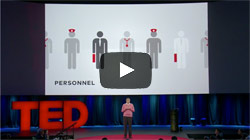 Bill Gates, TED
In 2014, the world avoided a global outbreak of Ebola, thanks to thousands of selfless health workers — plus, frankly, some very good luck. In hindsight, we know what we should have done better. Now's the time to put all our good ideas into practice, from scenario planning to vaccine research to health worker training.
---
Bill Gates, Chris Anderson & Whitney Pennington Rogers, TED
Bill Gates offers insights into the COVID-19 pandemic, discussing why testing and self-isolation are essential, which medical advancements show promise and what it will take for the world to endure this crisis.
---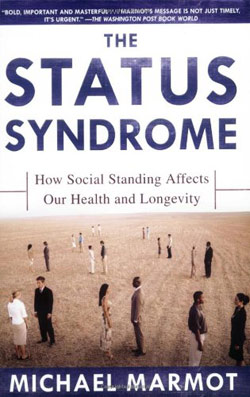 How Social Standing Affects Our Health and Longevity
Michael Marmot
In this seminal study, the renowned British epidemiologist Michael Marmot shows that the lower in a socioeconomic hierarchy a person is ranked, the worse is that person's health—a maxim that holds for almost any disease or health risk factor. Those who stand higher up on the ladder of life are always healthier than those even a few steps below. It's not poverty that makes the difference, says Marmot, but inequality—where one stands in the hierarchy.
---
United Nations
A snapshot of global and regional trends towards the achievement of the Sustainable Development Goals as of September 2019.
---
Gapminder.org
Imagine the world as a street. All houses are lined up by income, the poor living to the left and the rich to the right. Everybody else somewhere in between. Where would you live? Would your life look different than your neighbors' from other parts of the world, who share the same income level?
---
Childbirth can be a risky experience for women, especially in developing countries where 99% of all maternal deaths occur. Women in poorer countries are 27 times more at risk of dying from pregnancy, childbirth, or immediate post-partum complications than women in developed countries.
---
Deaths from diseases such as heart attacks, strokes, diabetes, and injury; the growing shortage of health workers; and the inevitable increase in population displacement all have an outsized impact on the poorest countries. What can be done?
---