Social-Distancing Discussion Guide: Creating the World We Want
"In every country, however, there are many examples of the power of the human spirit—of doctors, nurses, political leaders, and ordinary citizens demonstrating resilience, effectiveness, and leadership. That provides hope that men and women around the world can prevail in response to this extraordinary challenge."
Nicholas Burns, Harvard Kennedy School of Government;
Former U.S. State Department undersecretary for political affairs
The coronavirus crisis presents a defining moment for humanity.
People all over the world are sharing their experiences online. We are all made more aware of our global interconnectedness and of the fragile nature of life on our finite planet.  Let's use this time of self-isolating to think seriously about the kind of world we want.
This is a guide for just such a discussion – in families, among students and teachers, in "virtual" study groups, book clubs, blogs, forums – wherever thinking people gather.
It poses open-ended questions about who we humans really are: What shapes our reactions, beliefs and behavior? What does history, as well as our response to the current pandemic, reveal about the way we think and the choices we make? What strengths do we have to help us forge new attitudes, insights and solutions? What's already working? What isn't? Why?
The guide is divided into three focus areas for discussion: empathy and connection, income equality, and global sustainability. Links to science-based information from the Human Journey website and other sources are included with each focus area to help participants prepare for meaningful, informed dialogue.
As the situation evolves, we'll be adding new resource material to support your discussions. Sign up now for email updates.
Philip Zimbardo, PhD, Palo Alto University
Watch: In this 90 minute webinar, renowned psychologist Phil Zimbardo takes us on a journey of exploration and introspection for these complex times of global pandemic and social injustice. He reviews the psychologies of evil and heroism, with old and new faces, and introduces the new "Zimbrdo Systemic Engagement" program as a framework for positive response.
Ruha Benjamin in conversation with Meredith Whittaker, City Arts and Lectures
Benjamin and Whittaker exemplify the kind of discussion we need to imagine and create the world we want. They caution against the expectation that technology will provide a "magic bullet" to right the social fissures underlying the current challenges.
Alanna Shaikh, TEDx
Global health expert Alanna Shaikh talks about the current status of the 2019 nCov coronavirus outbreak and what this can teach us about the epidemics yet to come.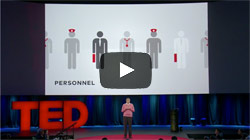 Bill Gates, TED
In 2014, the world avoided a global outbreak of Ebola, thanks to thousands of selfless health workers — plus, frankly, some very good luck. In hindsight, we know what we should have done better. Now's the time to put all our good ideas into practice, from scenario planning to vaccine research to health worker training.
Bill Gates, Chris Anderson & Whitney Pennington Rogers, TED
Bill Gates offers insights into the COVID-19 pandemic, discussing why testing and self-isolation are essential, which medical advancements show promise and what it will take for the world to endure this crisis.