Debt, Trust and the Functions of Money
We all think we know about money. But do we understand the functions of money, what money actually is, and what it represents? How and when did the first money appear? Do we think of it as a way to measure value? Is it a reliable store of value? Who actually creates the money we use? Is it a commodity to be traded? And how does this money actually relate to our status, to the real value of things we use in our lives, to the effort we make to get them, to the real economy of human settlements?
"…money is not really a thing at all but a social technology."
Once you start thinking about it, these are remarkably slippery questions, questions which have fooled many throughout millennia. Mostly because the answer seems so obvious. Is it not the coin in your pocket, the dollar bill in its clip, the credit card in your wallet, the check in the mail, the electrical impulse in the computer? Money is all these, and none of them, for it is primarily a way of ordering our lives. But this in a particular, arbitrary way: an attempt to make the often indeterminate qualities of our experience fit neatly into quantities; quantities that can be counted and compared to standard units of account, where everything is valued against a sum of money.
[Money] is the operating system on which we run our economies.
As Felix Martin wrote in Money: The Unauthorized Biography, "The problem is that money is not really a thing at all but a social technology: a set of ideas and practices which organize what we produce and consume, and the way we live together. When it comes to money itself – rather than the tokens that represent it, the account books where people record it, or the buildings such as banks in which people administer it – there is nothing physical to look at…But currency is not itself money…Coins and currency, in other words, are useful tokens to record the underlying system of credit accounts and to implement the underlying process of clearing [these accounts]."
Unfortunately, when we think of money (a noun), we automatically think of coins, of valuable metals, not of an institution by which a process of trust is administered (a verb). We should not think of what money is, but of what money does. For the crucial fact about its nature is that money is a technology, or procedure, devised to manage trust, trust that a creditor will be repaid. One could say it is the operating system on which we run our economies. For to trust is to have a belief in someone, to credit him, and if s|he is obliged to you, s|he is in your debt (hence, credit and debt) – a fact clearly asserted by the Knights of Malta, when in 1565 they stamped this motto on their coins: Non Aes, sed Fides – Not the Metal, but Trust.
But is it always safe to trust those who issue money? They can be defeated and their government can disappear, they can cheat and clip the edges of the coins so that they become lighter and worth less, they can withdraw the currency or let it devalue through inflation. The fact that they are not always trustworthy is one reason why the precious metal in the coins was so often assumed to be the actual thing of value. Mistaken for the insubstantial process which the idea of money represents.
The idea of money is one of the most important inventions of settled peoples.
The coins were never the money. They only stand in for the money. They were always tokens. Tokens of trustworthiness, that a debt will be repaid. And tokens are only tokens, however rare and valuable the metal they contain.
Despite all its ambiguous attributes, its dependence on confidence and trust, and the ease with which it can be used to cheat, the idea of money is one of the most important inventions of settled peoples. For it is one of the key technologies that allowed much larger groups to thrive together than was possible before. But like all technologies, it is a two-edged sword which can be used to steal as well as pay.
Roy Davies and Glyn Davies
See a summarized chronology of monetary history from ancient times to the present day.
---
Featured Books
7 Ways to Think Like a 21st Century Economist
Kate Raworth; reviewed by George Kasabov
A "renegade economist" advances a new, more comprehensive and regenerative economic model – one based on a view of humans as socially adaptable beings in a world of limited natural resources. A view that factors in the love and caring of family life, the kindness and cooperation of society, and the search for meaning and morality over the getting and spending of money as the essential aim of human existence.
---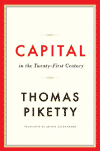 Thomas Piketty
A leading economist documents the trend of income inequality through history, stressing that the way an economy functions is directly related to a power structure that is determined and maintained by the few who hold the wealth.
---