The Borgen Project
Explore some of the many inventions Improving conditions for people in the world's poorest regions.
Map Kibera was born in the Kibera slum of Nairobi but is growing to connect marginalized communities across the whole of Kenya's capital. They use OpenStreetMap, a free, editable program to map local amenities and resources, particularly services that address security, water sanitation, health and education. Their mappers are all young community members who use GPS devices to collect data, and computers to edit and upload the map information, ensuring that all the information is kept up-to-date.
Mapping may include surveys of the general features of a district – like pathways, clinics, water points and markets – or might get into a great deal of detail in one subject – say, health mapping of a given area. In that case, surveying can include not just pharmacy locations but also hours of operation, the kinds of services offered and other much-needed public information.
Alia Dharssi, Aljazeera
More than 95%  of women and girls in New Delhi report feeling unsafe in public spaces. Over the last few years, women's advocacy groups have responded with community-based programs that aim to reduce violence against women and girls with activities focused on shifting social norms.
Abdul Latif Jameel Poverty Action Lab (J-PAL)
J-PAL is a network of professors from 49 universities around the world with the mission to reduce poverty by ensuring that policy is informed by scientific evidence. On their website you'll find key findings and policy lessons in the areas of crime, violence and conflict, agriculture, education finance, health, environment and energy, labor, and political economy and governance.
Fusion Universal
See a 5-minute summary of C.K Prahalad's book on how great companies through social entrepreneurship can help alleviate global poverty by servicing the vast market of the world's poorest people.
The Economist
Research by Esther Duflo and others points to a profound lack of hope—and not just capital, credit, skills, or food—as a factor in creating and sustaining a poverty trap.
Nicholas Kristof, New York Times
At a time when there's a vigorous political debate in America about foreign aid, agricultural initiatives may not wow Congress or the American people. But if they're boring, they're also succeeding.
Andrew Jacobs & Matt Richtel, New York Times
As growth slows in wealthy countries, Western food companies are aggressively expanding in developing nations, contributing to obesity and health problems.
Emily Sohn, NPR
Where can people expect to live the longest? The answer to that question is and often dependent on wealth: People generally live longer in richer countries like Japan and Switzerland, where average life expectancies exceed 83 years. In lower income countries, expected years of life are often far shorter — hovering below 55 in a number of sub-Saharan countries, including Chad, Mozambique and Sierra Leone. But a recent data-crunch turned up a few surprises with some particularly encouraging news coming out of Niger.
UNESCO
Freedom of information is closely linked to a culture of openness. Open and inclusive societies protect press freedom crucial to sustainable development.
UN Sustainable Development Goals
End extreme poverty. Fight inequality and injustice. Fix climate change. It seems impossible that the average person can make an impact, but change starts with you. Here are some super easy things that, if we all do them, will make a big difference.
Phyllis Craun-Selka, Frontlines
Nearly 200,000 people in Malawi's arid south are learning how to make the best use of tough terrain and restore their communities.
National Geographic
Nearly a billion people still defecate outdoors. The problem isn't just a lack of toilets—it's a lack of toilets that people want to use, The result" millions of deaths and disease-stunted lives.
Lyndsey Gilpin, TechRepublic
It started in Kenya. Kobia and a few of his blogger and techie friends built a website to map violence and peace reports after a fallout following the 2008 Kenyan elections…
Gabriella Jóźwiak, Devex
According to the World Health Organization, 40 million new health and social care jobs must be created globally by 2030 to meet Sustainable Development Goal 3 of universal health coverage. At the same time, global youth unemployment reached 71 million in 2016, according to International Labour Organization data. Could the two problems be used to solve each other?
Featured Books
How Billionaires, Tech Disrupters, and Social Entrepreneurs Are Transforming the Global Aid Industry
Raj Kumar
In 2000, Raj Kumar and friends created Devex, an online community for global development that matches up organizations with funding opportunities and provides the largest database of grants, tenders, and other funding information. This book was written 20 years later to provide a clearer picture of how the aid industry operates, and where it's headed.
A New Approach to Growth, Development, and Social Progress
Joseph E. Stiglitz
A Nobel economist and a leading finance expert posit the view that learning is more important to growth and development than the accumulation of capital. The traditional view of an inherently efficient free market, and of government regulation as the major source of economic difficulty, impedes the raising of a society's standard of living by discouraging the production and dissemination of knowledge.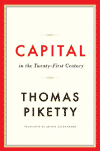 Thomas Piketty
A leading economist documents the trend of income inequality through history, stressing that the way an economy functions is directly related to a power structure that is determined and maintained by the few who hold the wealth.
Related:
Global Poverty Today
Multilateral and Bilateral Aid
Education in the Developing World